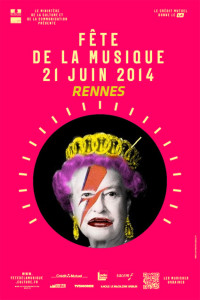 Mis à jour le 21 Juin 2014
Comme chaque année, voici la carte interactive de la fête de la musique le 21 Juin 2014 (celle-ci s'étoffe au fur à mesure).  Cliquez sur les lieux pour découvrir la programmation en détail. Écoutez les groupes au travers de clips, voir les horaires de passage afin de définir votre parcours.
Découvrez celle de 2015 http://rennesmusique.com/programmation-fete-de-la-musique-2015/

[mappress mapid= »12″ width = »98% »] Vous souhaitez y apparaitre ? Envoyez-nous les lieux, les horaires et le nom du groupe via ce formulaire.
Liste des groupes :
a>- World •Ajax Tow – Funk •Apsara Flamenco – World •Artisanal – Hip Hop •Automat – Electro •Avrel–Electro •Azano –Electro•Axones –Electro•Axom – –Electro •Bad Mood Boy-Rock•Bad News – Rock •Bagad sonerien an erminig – FestNoz •Balek – Electro/House •Band'des rails Folk•Bass Marron – Electro •Bio tic – Chanson française •Blue Chill – Rock •Bud Breaker – Electro •Bumpkin Island – Folk •Canto mi – World•Casta –Hip Hop •Catherine Baudichet –Classique •Central Massif– Rock •Chamade –Chanson•Charlym's–Electro •Chingachook –Electro•Chorale de la bellangerais–Chorale •Condate •Crab Cake Corporation – Electro •Daif – Electro •Darijade –Electro•Daxxel – Electro •Didzik – Electro •Dj Cinqlon – Electro •Dj Elwood – World/Cumbia •Dj Freshhh – Funk •Djamel –Electro•Dj Jack – Electro/House •Dj Lombo – Electo/House •Duo kerno-buisson •Duplomb – Rock •Eden Lights – Pop •El banda de la cuerda grande – World •Elk Escape – Rock •Ensemble vocal le thabor –Classique•Ensemble vocal resonance •Eprohm – Electro/House •Ethan Wood – Electro/House •Fago Sepia – Math Rock •F.e.m – Electro •Fevrier – Rock Noïse •Flipo – Electro/House •Freddy Bass – Electro/House•Freak Magnet – Post grunge •Free Style •Furie – Folk •Ganez The Terrible – Electro •Geof –Electro/House•G-Kill Electro •Gordini – Rock •Harmonie Municipale – Classique •Hip J – Electro/House •H-Mess Electro •Initial Big Band – Jazz •In Paracetamol We Trust –Funk •I-Skanker – Reggae/Dub •Jabba 2.3– Electro • Karabass –Electro/House•Kararocké •Kewène – Rock •K.Oni – Hip Hop •Kromar – Electro •Krueger – Electro/House •Kyrox – Electro/House •L'air de rien – Chorale •La Fanfara Electronica – World/Balkan •Lady Jane – Rock •Lazy Buddies – Swing/Soul •Legal shot sound system inna dub me crazy stylee – Reggae/Dub •Les rails chantantes – Chorale •Les Sunrises– World/Afrobeat •Lg Rivales – Electro •L.M.S – Electro •M'Rik & Vj Blast –Electro •Menthine – Electro •Mermonte – Pop Orchestrale •Mha – Math Pop •Mickael Growth – Electro •Mickey– Electro •Micronologie – Hip Hop •MKL – Electro •Morgasm–Electro •My Sleeping Doll – Rock •Nak'aduli •NakwanElectro •Narma & The Walili Beat Brother's – Reggae •Nouvel Acte – Danse HipHop •Oliv'r – Electro •Olympia Fields – Pop/Rock •Orchestre de chartres de bretagne – Classique•Popoye–Electro• Sotto voce et la chorale de la mjc de bréquigny –Chorale•Tristan Diouris –Chanson•Unconscious Laws –Electro•oy! Hakol tov! – World •Takadidoum –World •Tutti Combo –Jazz •Undergroove –Funk• Unruhe– Electro•Vibrations –Classique•Voix nomades–World
Si vous aimez cette carte n'hésitez pas à la partager sur les réseaux et à rejoindre notre page facebook.